EXTRUSION STORAGE RACKING SYSTEMS
Extrusion Storage SYSTEMS
Rubber, PVCu and aluminium extrusion storage can cause issues due to product length and flexibility. Wickens Extrusion Racking Systems allow organised storage of long lengths of extrusion on Cantilever Racking, preventing product damage that may occur if stored on the floor.
EXTRUSION STORAGE SYSTEMS WILL BENEFIT YOU BY:
Increasing vertical storage capacity
Allowing access to selective stock
Speeding up handing of materials
Preventing damage to products
FEATURES:
Up to 10m high systems
Removable retaining pins or welded end stops to arms and bases to prevent products from rolling off, if stored loosely
Optional Stillages for safer storage of  loose, stacked  extrusion
Single or double sided options
Manufactured from heavy duty universal beam sections
Painted any colour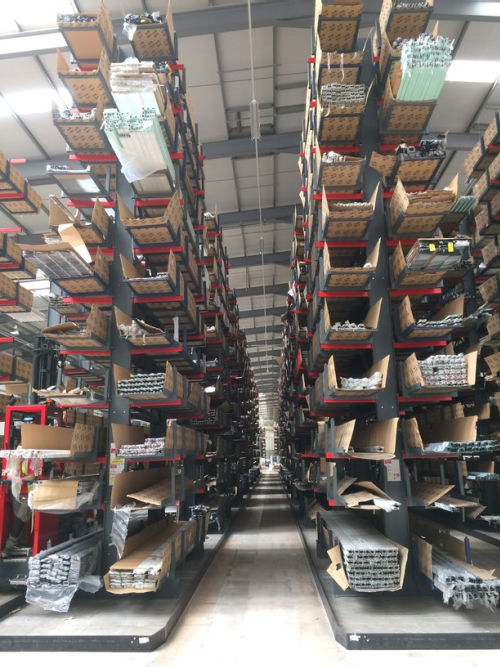 Alternatively, Vertical Racking could be used for vertical storage of rigid loose lengths of extrusion or small bundles, allowing access and ability to hand-pick certain lengths while reducing footprint of the storage space.
Adding a Guide Rail System to a storage system will help protect your stock and racks from accidental damage caused by forklift trucks, and would improve the speed of operation.
A variety of safety products, such as steel safety barriers, column protectors and bollards, are available to protect your racking and stock from damage caused by material handling machinery.
Wickens also produce complete Rack Clad Buildings,
a cost-effective alternative to traditional storage building.
All of our products are designed and manufactured in the UK and comply with current British and CE marking standards.
We also offer a full project management service, including installation.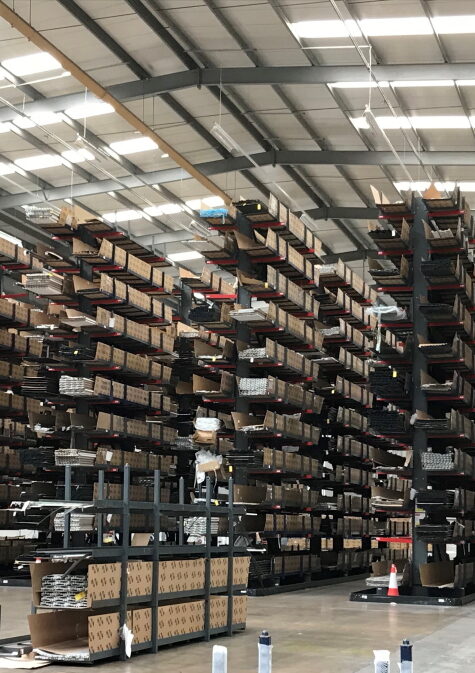 Reviews for Extrusion Storage
Extrusion Storage System
Average rating:
2 reviews
Nov 30, 2020
Extrusion Storage System
The service from my initial meeting with Wickens to installation was superb.
The service from my initial meeting with Wickens to installation was superb.
Nov 30, 2020
Review for Extrusion Storage System
We wanted to separate the factory from the storage area. We looked at using someone local for this job but it was just too big and we wanted to make sure we had a professional solution. MCM recommended Wickens and I am very happy we used them. We have increased our storage capacity by over 60%.