DRY STACK INSTALLATIONS FROM WICKENS HELP TO IMPROVE PROFITS, GENERATE EMPLOYMENT AND LOCAL COMMUNITY REJUVENATION.
Dry Stack Systems have many benefits to boat owners, including reducing wear and tear, improving fuel efficiency and being more eco-friendly as anti-fouling is not required. A waterside Dry Stack is an attractive proposition enabling owners to call ahead to have their boat launched and ready, and negating the need for trailer launching into the corrosive effects of salt water. Winding boats onto a road trailer is not the most comfortable way to end a beautiful day afloat either.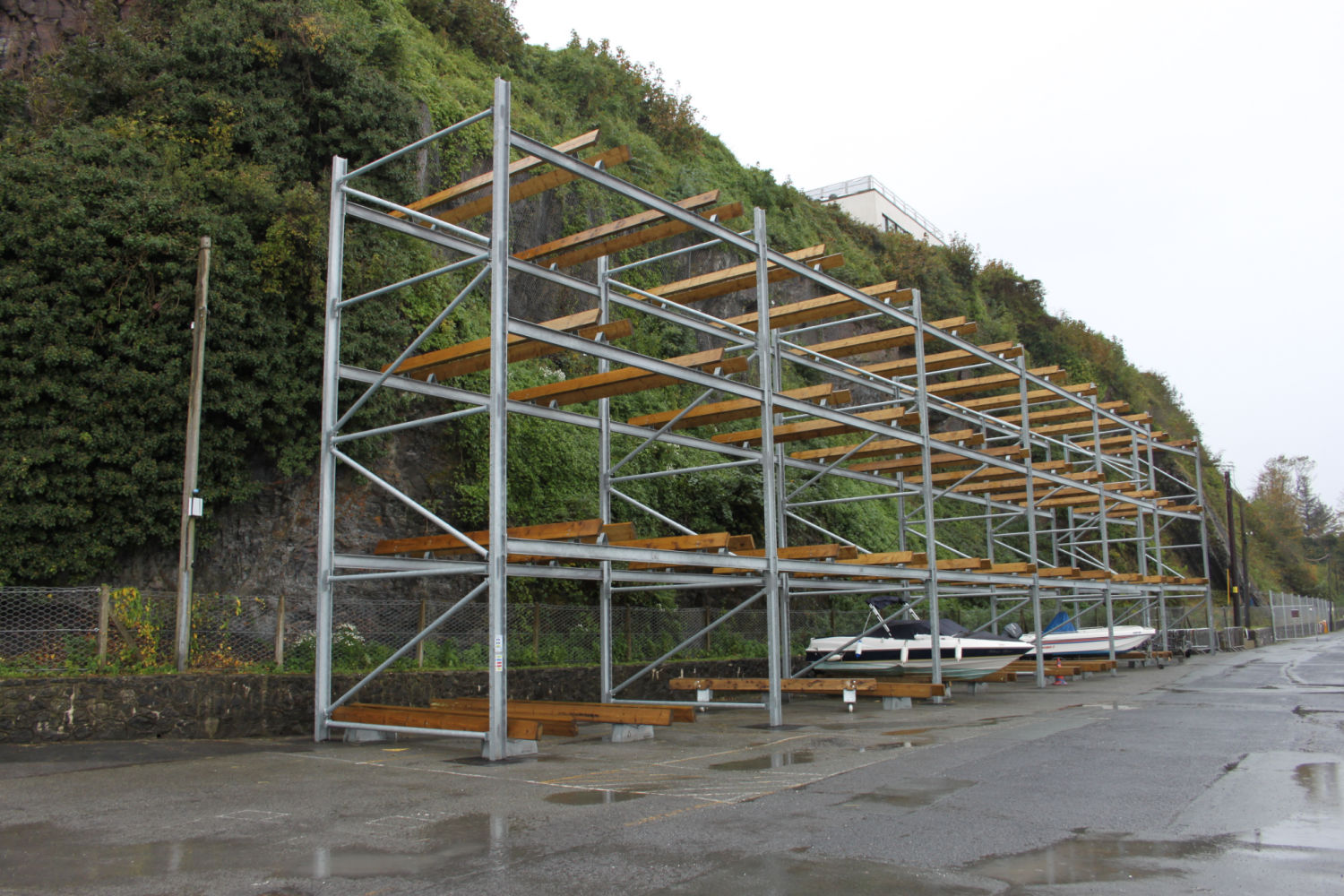 There are many benefits to marina and yacht haven owners too. Dry Stack Systems can provide a profitable business model, which maximises use of space both on and off the water by increasing overall berthing and storage capacity. Small boats can be stacked high into 'free' vertical space, releasing water berthing for larger vessels. It also offers opportunities for operators to provide added value services, such as boat cleaning, servicing, re-fuelling and provisioning.
Recognising that powerboats come in many shapes and sizes, Wickens have created a racking system that uses adjustable beams and bearer brackets, enabling stack operators to make the most effective use of their storage space.
Wickens Sales Director Tony Collins comments, 
"We have ensured that our system is fully adjustable to cater for boats of various sizes. The horizontal beam can be adjusted vertically at each level to suit different boat heights. Adjustable bearer brackets mean that the width of the bearers can be changed to suit any boat width with minimum tooling and without any extra drilling required. So as boats change and owners come and go, the racks can be adjusted to avoid wasting space. This is particularly important for covered or indoor Dry Stack owners with height limits."
However, despite seeming to be an obvious solution for marinas, Dry Stack Systems have been a little slower to catch on the UK, than in markets such as the USA.  Tony adds, "The Dry Stack system is a cost-effective and profitable boat storage opportunity that can sit within or on a separate site from the physical marina site.  Many UK yacht havens and marinas have limited berthing and shore space, so the Dry Stack model can really help this problem. We are also finding we are getting more enquiries from harbour authorities and owners of accessible waterfront sites, not necessarily in a marina itself, with the end result being boat owners having better, more flexible access to their boats and increasing their time afloat."
Saundersfoot Harbour a small traditional fishing harbour with very little space, recently installed a Dry Stack facility from Wickens Engineering. The harbour authorities plan was to provide Dry Stack racking for boats up to 6m to maximise on the economies of scale within the limited footprint they had available.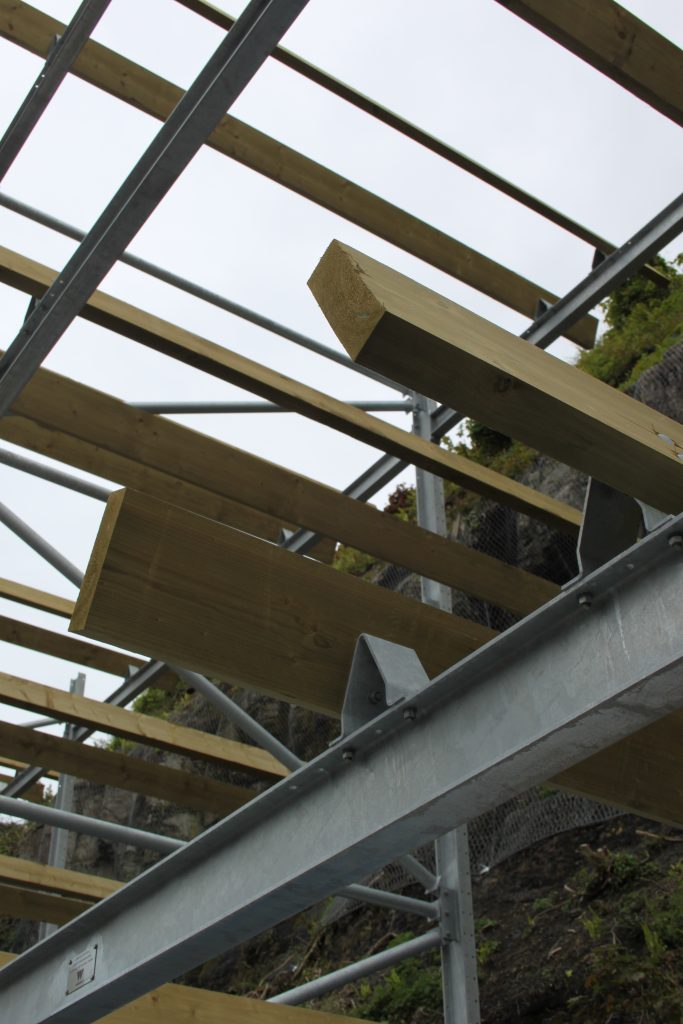 Michael Davies, CEO of Saundersfoot Harbour, knew there was sufficient demand for Dry Stack Storage, and was careful to introduce the programme on a rolling basis, to ensure continuity of service and fit with their economic plan.  He comments, "We introduced the Dry Stack knowing it is a well-proven, tried and tested model for boat storage.  We wanted to ensure we could properly service our owners launching needs, so we have deliberately have filled the stack in stages over the last couple of seasons, starting with 30% capacity. If we'd filled it 100% week one, we would have had a customer service problem on our hands with everyone wanting launching and recovery at the same time. Instead we wanted to grow the business steadily, building capacity and staffing levels hand-in-hand."
Saundersfoot Harbour's approach was to bring in the equipment early and train their staff up.  Wickens Engineering was appointed through a tender process to create a flexible system that could be altered over the years as demand grew and changed. Wickens created a racking system with holes every 4" enabling the racks to be adapted for the different heights and size of boats, with the option to add a 4th tier in the future.
The Dry Stack has had a significant effect on the local economy.  Saundersfoot Harbour typically dries at 2.5 hours either side of HW with the water dropping to 300m away across a flat beach.  Rather than using a negative lift, Saundersfoot opted to use a traditional Linde lift, with a maximum 1.5 ton capacity combined with a specialist boat launching trailer.  The advantage of this system for boat owners is they can leave and return at almost any state of the tide, and are not restricted by tidal considerations. They simply motor straight onto the boat trailer on the beach when they return.
Davies explains, "As well as fitting in with the Harbour's economic plan, the Dry Stack has played an important part in rejuvenating the village.  Boat owners can now come and go without tide and weather restrictions, so they are getting greater use out of their craft and coming into the village more. Plus, we have been able to recruit more staff from the village as we have steadily increased capacity in the Dry Stack.  We now have a waiting list for spaces in the rack."