Products Used: Cantilever Racking.
We assisted SCA Timber Supply in designing, manufacturing and installing a very large scale storage solution to hold large quantities of timber in their warehouse in Stoke-on-Trent.
SCA Timber Supply are a leading supplier of timber products to DIY retailers and timber merchants. As a result of significant investment in the development of their Stoke-on-Trent warehouse they needed to assess their storage capabilities. After several site surveys, Wickens proposed a
cantilever racking system to solve SCA Timber Supply's storage problems. They chose to include head guards (a cantilever racking accessory) onto the rack arms to increase safety in their warehouse. SCA Timber Supply were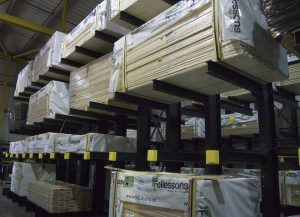 attracted to work with us due to the high level of service which they received from Wickens at the quotation stage. We worked with SCA Timber Supply's distribution centre manager Bruce Philpott, arranging a site visit to Hull where we had previously provided a storage system for a similar problem. This initial contact resulted in our largest ever order.
As it was a very large contract SCA Timber Supply
required it to be manufactured and delivered in stages, with the first instalment required within a very short time frame, which we were able to meet. SCA Timber Supply's warehouse was in continual use throughout the duration of the job and so we had to work with and around them to make sure that there was as little disruption as possible. Due to the size and length of the job, several site visits by Wickens employees ensured that the job continued to run to time and also that SCA Timber Supply were happy with everything that was happening.
We worked closely with Bruce to provide the best solution for the job,
which we were able to complete ahead of schedule. The professional approach to the job impressed Bruce, particularly the number of people which were involved in all aspects of the project, from initial design to
installation.
"The professional approach from initial design to installation was very impressive"