CANTILEVER RACKING Storage SYSTEMS
CANTILEVER RACKING
Wickens Cantilever Racking offers a cost-effective and safe solution for storing various types of long and heavy duty products. An open-fronted system allows storing infinite and varying length items. Manufactured in the UK, our Cantilever Rack System uprights and bases are constructed from hot-rolled structural steel sections, which make them very robust and able to withstand the rigours of the most arduous industrial environments.



FEATURES:
Rack heights up to 10m to carry up to 30 tonnes
Vertically adjustable arms on a standard pitch of 150mm
(others available on request)
Painted any colour, or hot-dipped galvanised finish for external applications
Arm lengths and capacities to suit your requirements
Various arm section material profiles
OPTIONS:
Single or double sided
Canopies for external storage
Removable retaining pins or welded end stops
Arm end ties (left to right supports)
Plastic arm protection to protect the product from corrosion or damage
Tyre guards
Steel or timber decks
Head guards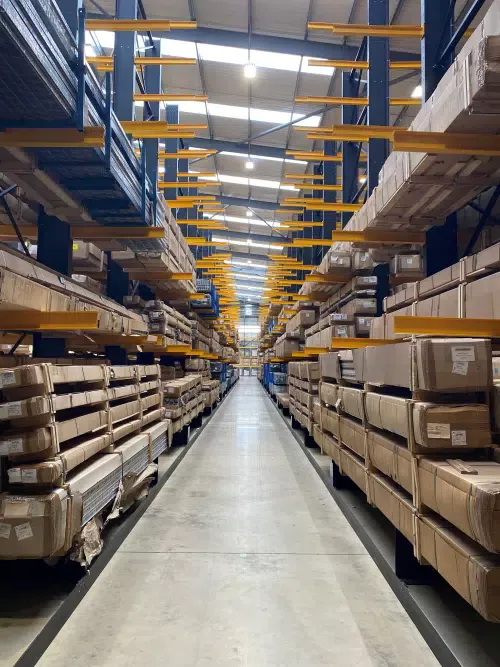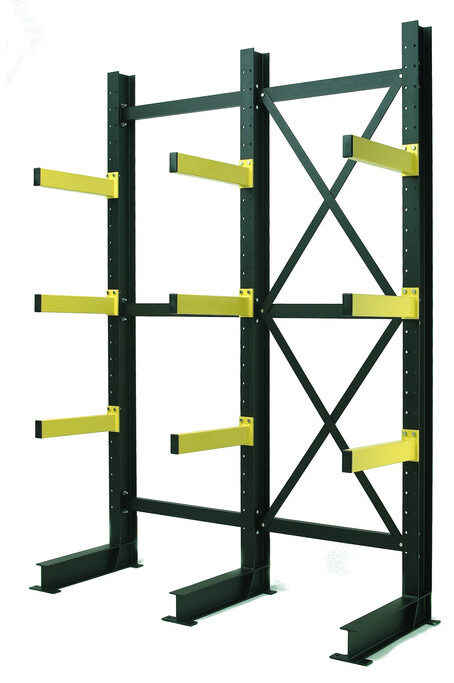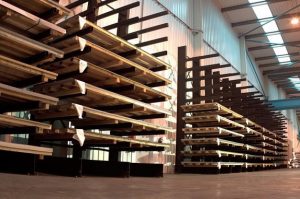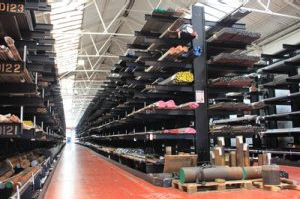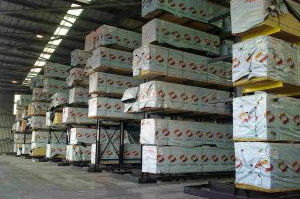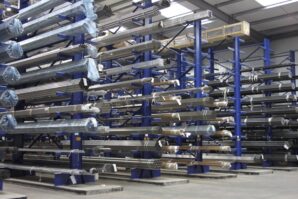 IDEAL FOR STORING:
Aluminium sheet and plate
Steel sections
Raw materials
Panels
Concrete & sheet lintels
Worktops & laminates
design:
All products comply with current British and CE marking standards
Minimum Safety Factor of 2.5 based on ultimate tensile strength
Arm deflection limited to 1/180th of length
Maximum allowable weld stress of 115N/mm2
Upright deflection limited to 1/120th of height or 50mm, whichever is less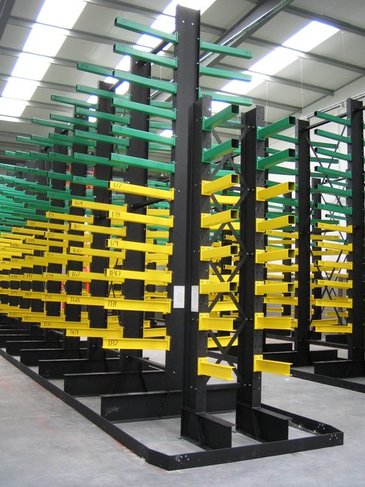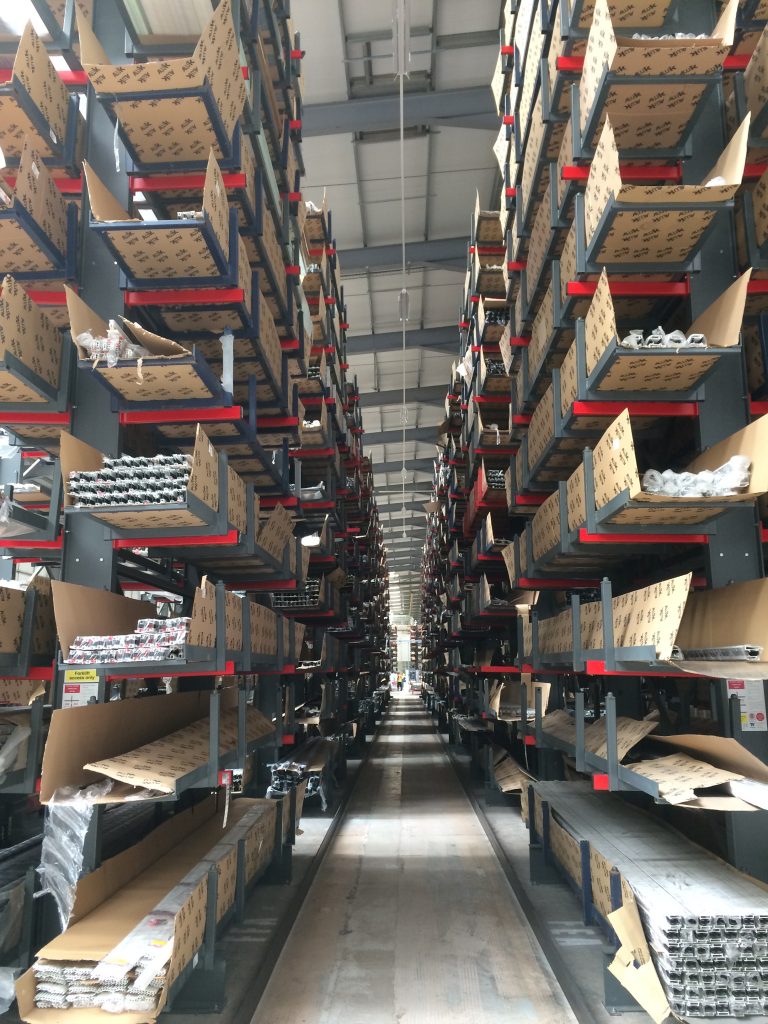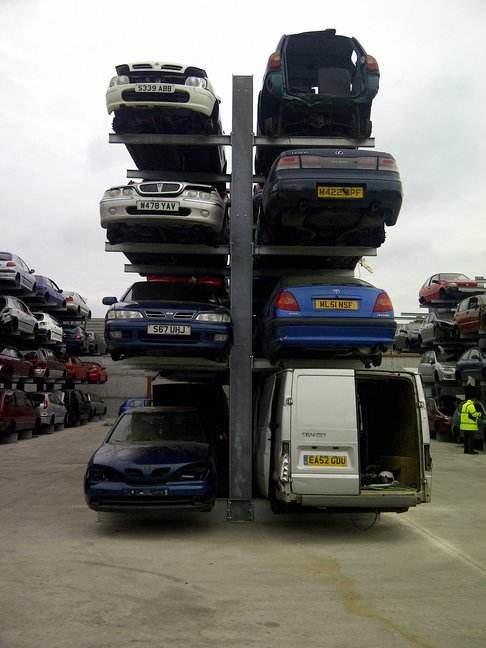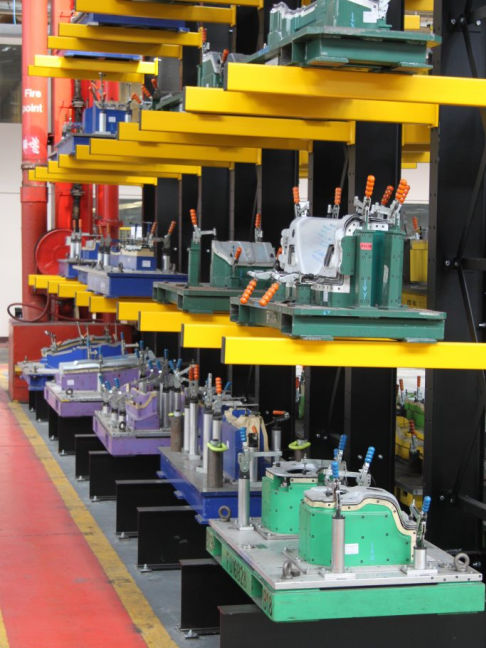 When combined with a Wickens Guide Rail System, our Cantilever Racking offers the perfect narrow aisle solution, allowing the most efficient use of space within your warehouse. A variety of safety products, such as steel safety barriers, column protectors and bollards, are available to protect your racking and stock from damage caused by materials handling machinery.
We also produce Cantilever Racking fitted with canopies and rainwater goods that will protect your externally stored products from weather damage. In addition to roofs, we offer a complete Rack Clad Building package, a very cost-effective way of constructing a stand-alone storage building.
Wickens Design Engineers will provide a bespoke Cantilever Racking solution for your individual storage needs. We will carry out structural calculations to ensure that you are offered the most cost-effective racks, which are able to carry your specified loads and maximise the capacity of your storage space. Our Engineers will liaise with your chosen forklift truck supplier to ensure that our system works in complete harmony with their trucks.
We offer a full Project Management Service, including installation.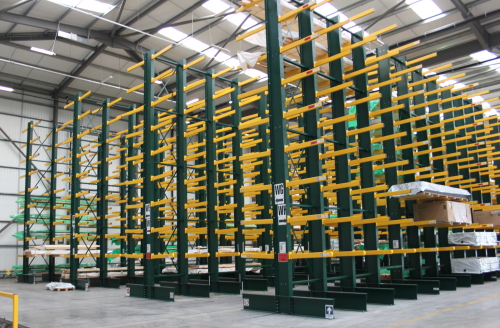 Reviews for Cantilever Racking Systems
Cantilever Racking Systems
Average rating:
4 reviews
Simon Scowcroft, Managing Director at Libra Systems
Dec 8, 2020
Cantilever Racking System
Wickens were recommended to us by a local fork lift truck company who had worked with the company in the past, so we invited them to visit our site to discuss requirements with the warehouse team. They recommended a cantilever racking system which made the best possible use of the available floor to ceiling height, while also taking into account fork lift truck capacity and access for fire doors and entrances. We asked three racking companies to quote for the job and Wickens were the most competitive. The fact they also manufacture all the racking components meant I was confident they could provide a solution to meet our needs. The difference the new racking has made to the warehouse is significant. We are now making the most of the space available to us and can store products of different lengths more easily, meaning our business is operating more efficiently and safely.
Alan Stubbs, Roads Services Contracts Manager at East Lothian Council
Dec 8, 2020
Cantilever Racking System
We approached Wickens to design a storage solution for our lighting columns. We are pleased with the end product which has allowed us to maximise the limited space available, the site area looks a lot tidier and this will improve the working environment for our operatives.
Bob Lynock, Yard Manager at Smart Space Tamworth
Dec 8, 2020
The new racks have created so much more space - it's a great improvement. Before we couldn't even get the truck into the yard! The racking has definitely done what we hoped it would – it saves me a lot of time.
Mark Woodward, Operations Director at Metalfast Manchester
Dec 8, 2020
Cantilever Racking System
Wickens know our business and we have always received excellent service. They worked with us and our subcontractors to design the best possible solution.